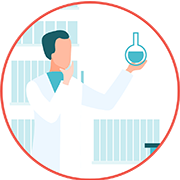 Understanding the challenges of your R&D projects
Because biology is complex, so are your projects. Access to the resources of other laboratories and hospitals is essential.
This is what Labtoo offers throughout the development of biotech, pharmaceutical and medtech products.
Custom solutions for your R&D projects
The guarantee to make your projects move forward, whether it is the search of unique biological samples or the experimentation on complex models.
Thanks to the method developed by Labtoo, you save time and reduce your R&D expenses.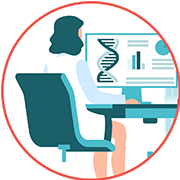 Our R&D services
In order to respond to any type of unique demand in the R&D pathway, we need to invent new ways of providing services in biotechnologies and pharma. This is what we have been proposing to innovative project leaders since the creation of our solution.
Discover our categories of services in R&D and research of biological samples:
Outsourcing R&D in Biotechnology
fast, simple, and secure, at last!
The Labtoo method allows to find solutions quickly at all stages of the R&D process. The team will accompany you for biotech projects in any type of therapeutic area, whether infectious diseases or oncology, for diagnostic projects, or any other project requiring biotech skills.
The steps of our R&D outsourcing support are :
➊
Understanding your need
➋
Looking for the desired experimental model or biological resource
➌
Choose the most appropriate solutions for contracting
➍
Facilitate exchanges and finalize the service
A successful outsourcing
Whether you are the founder of a biotech startup company, an academic research director, or a project manager at a pharmaceutical company, you regularly need to look for external service providers.
However, the process of R&D outsourcing is very complex. From the identification of technological solutions to contractualization with trusted partners, additional support can significantly increase productivity. For the project leader: security and significant time savings.
Our services adjust to any type of business,
whatever your needs are
We accompany all your needs, whether they are punctual and urgent or for budgeting, studies to be planned on the medium or long term. Our team responds to your needs by proposing adapted solutions by acting as your outsourcing manager, dedicated to your laboratory, and available for your project.
With our services, a new member is added to your team to meet the challenges of your projects together.
Discover our offers and talk to our scientific consultants to learn more.
Are you a service provider?
Join our network of more than 500 service providers in France and Europe. We can connect you to new partners and customers. Our team will review your unique expertise and you may receive requests for services related to your services in biotechnologies. A new source of income for your structure. Our service simplifies your commercial and administrative procedures. The Labtoo community is built around scientific excellence and the quality of services provided.