Your next R&D project starts here
Experience Outsourcing in Biotechnologies, the right way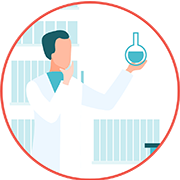 Understanding the challenges of your R&D projects
Because biology is complex, so are your projects. Getting access to high-end expertise is mandatory.
The best solutions for your R&D program
The guarantee that the projects are moving forward, with our scientific team, our academic and CRO partners.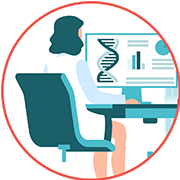 Our R&D services
To meet all types of demand within the R&D journey, one must invent new ways to give easy access to biotechnology services. This is what we are offering to the scientific community!
Browse our service categories:
Outsourcing R&D in Biotechnology
fast, simple, and secure, at last!
The Labtoo method makes it possible to find solutions quickly at all steps of the R&D process. The team will accompany you for biotech projects for any type of therapeutic field, whether infectious diseases, neurology, or oncology, for diagnostics projects or any other project requiring biotechnology skills. The steps of our R&D outsourcing management support are:
➊
Understanding your need
➋
Searching for the best technology or model
➌
Identifying the most qualified providers
➍
Facilitating contracts and monitoring exchanges
A successful outsourcing
Whether you are the founder of a biotech startup company, an academic research director, or a project manager at a pharmaceutical company, you regularly need to look for external service providers.
However, the process of R&D outsourcing is very complex. From the identification of technological solutions to contractualization with trusted partners, additional support can significantly increase productivity. For the project leader: security and significant time savings.
Our services adjust to any type of business,
whatever your needs are
We accompany all your needs, whether they are punctual and urgent, or for budgeting, studies to be planned on the medium or long term. Our team answers your needs by proposing adapted solutions and acting as your part-time outsourced manager, dedicated to your laboratory and available for your project. Think of our service as a new member of your team, that will work to face the challenges you need to address. Discover our offers and discuss with our scientific advisors to learn more.
Are you a service provider?
Join our network of more than 500 service providers in France and Europe. We allow you to be visible to new customers. Highlight your offer on our platform and receive requests for services related to your expertise in biotechnologies. A new source of income for your structure. Our service simplifies your commercial and administrative procedures. The Labtoo community is built around scientific excellence and the quality of services provided.